Dashboard-based project management.
Empower your team with the right tools to help deliver projects on time and on budget — with easier updates and better quality control via our easy-to-use dashboards.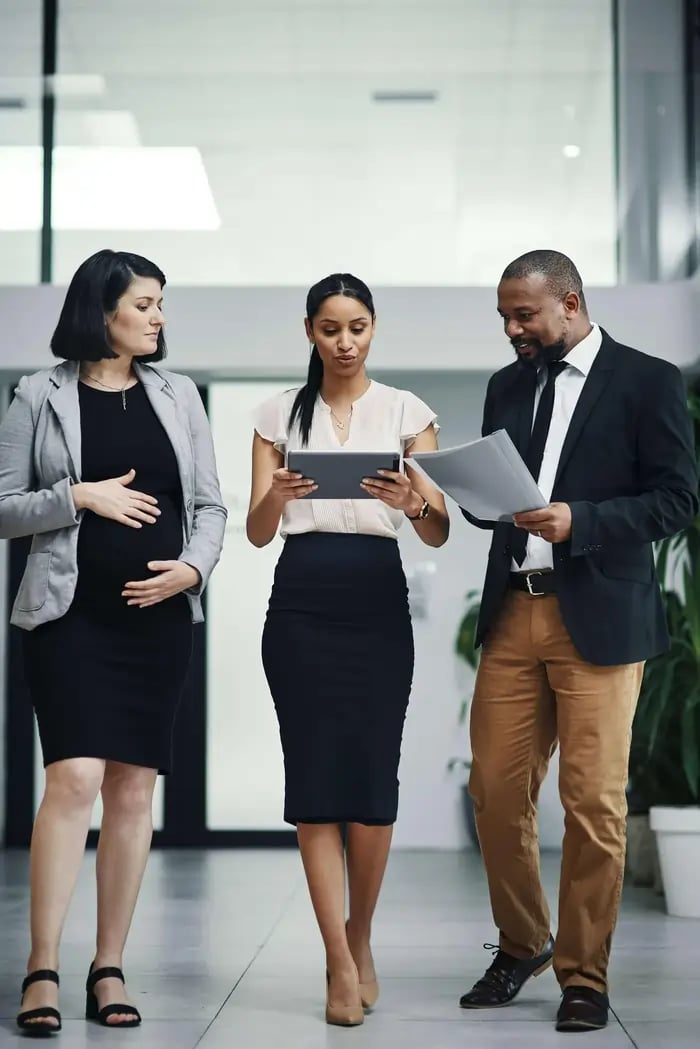 See how BQE CORE can help your firm.
Click through our interactive tour below to see how BQE CORE provides back office automation to
power front office insights and make firm management more agile, informed, and data-driven.
Spend less time on
project management, and more time on delivery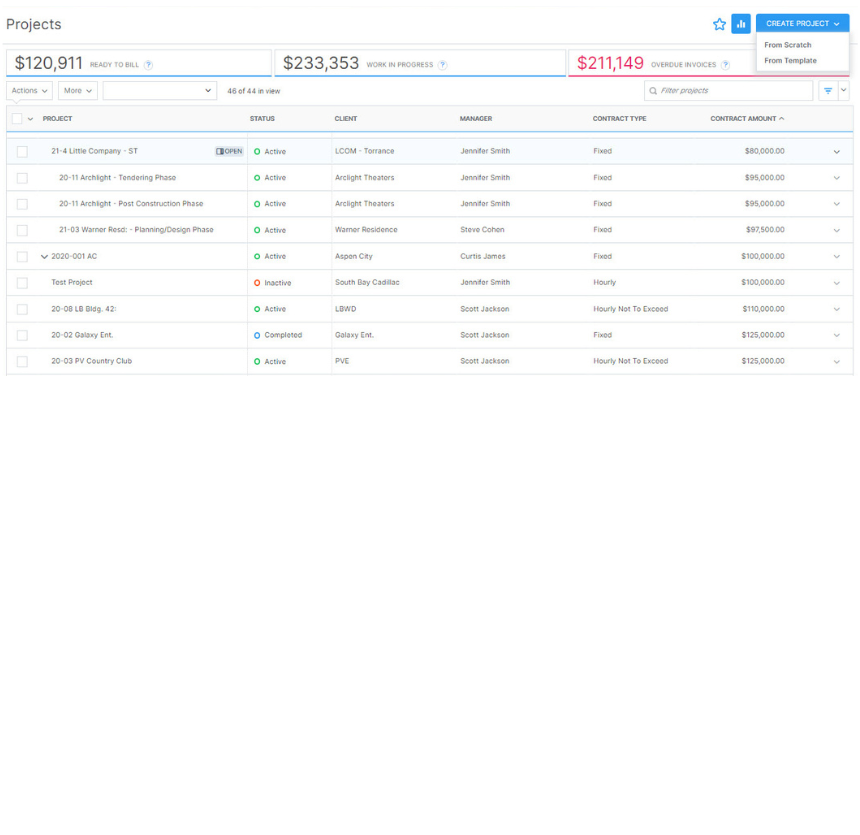 Maximize profit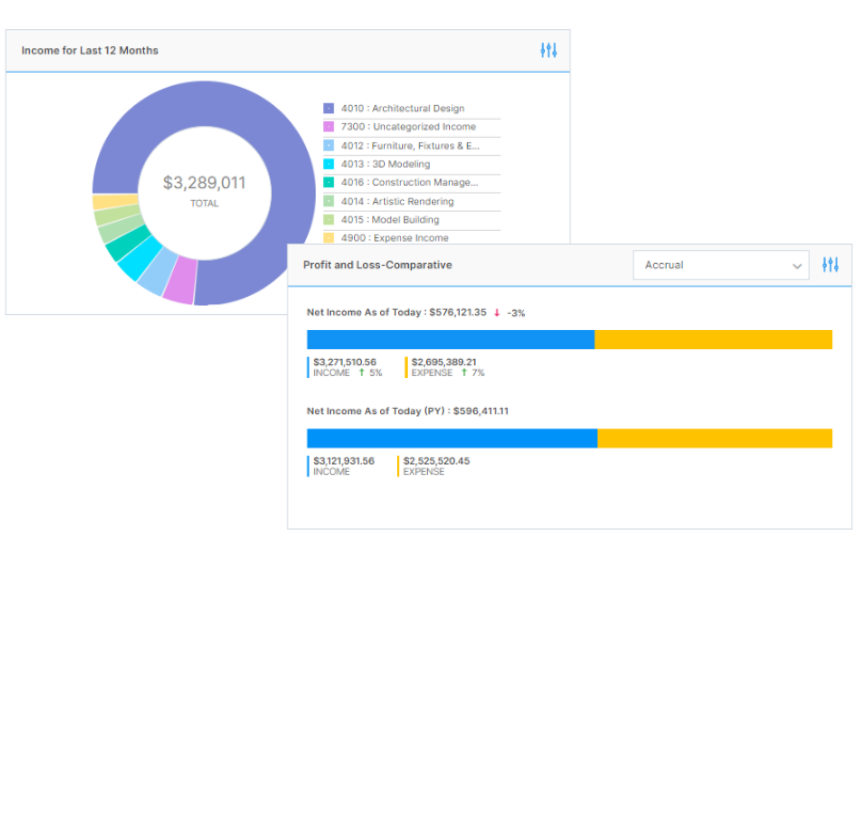 Measure project profitability and empower project managers to think like business owners with integrated project accounting and management tools.
Use real-time insights to keep projects on-time and on-budget, with zero surprises.
Understand costs and schedule for each phase of a project with phased billing.
Make more informed decisions in real-time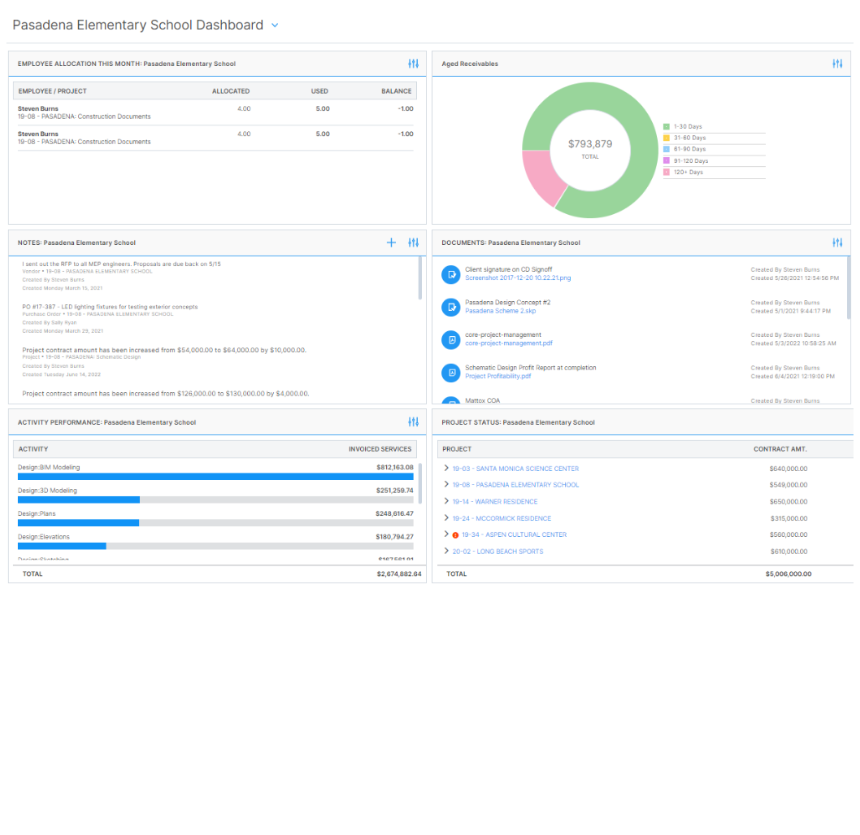 Automatically calculate current metrics like overhead, GA, fringe, and profitability.
Manage teams, budgets, tasks, time, costs, and schedules in one location.
Optimize team utilization with resource allocation tools and interactive Gantt charts.
Automate project tracking reporting.
Track progress and budget — both from a time and cost perspective — to instantly monitor a project's pulse and course correct before minor issues become major ones.
FAQ
What if I Don't Use Project Management Software?
Without project performance tools, your firm may be working inefficiently, costing you time and money, and impacting the quality of your work. Each project has several stakeholders, collaborators, and phases, so it's natural for teams to need a little help planning and executing their work.

If you continue to work without practice management software, you put your firm at risk of lost time, communication issues, cost overruns, errors and rework, a lack of data and analytics, delays, and an unmotivated team.

By adopting a project management platform, you equip your firm with real-time data that helps you make more informed business decisions, a visualization of project progress, transparency and accountability across the team, and reminders about crucial upcoming tasks and deadlines.

To ease the challenges of planning and monitoring projects, we've made it easy to understand the numerous benefits of project tracking software, which features are most impactful, and how to choose the right software for your needs. PM software will help your firm avoid costly mistakes and enable you to improve your project delivery to clients.
How Do I Manage My Project's Progress?
Project scheduling software helps you establish a framework to measure progress and communicate it across your project team. Starting each project with a kickoff and scheduling recurring check-ins (ideally weekly) provides built-in time to check in on project progress to see if you're right on track or falling behind. By keeping an eye on progress, you can adjust as soon as you realize you're behind schedule or over budget.

Using a project management platform helps you track and visualize KPIs, with features like customizable dashboards and analytics reports that you tailor to your firm's needs. Once you determine the most critical metrics and financials to track, you can set up your project management software to automatically generate reports and send them to project collaborators. This ensures everyone has access to the data they need and is on the same page.

Tools built into PM software, like time and expense tracking, provide data on how productive employees are and how much work goes into a project. These insights allow you to offer any additional training that's needed, optimize your workflows, and plan more accurately for the next project.
How Do I Manage Scope Creep with Project Management?
Projects rarely go exactly the way we intend. Once a project is in progress, perhaps you discover that you need to make some tweaks, or a client requests changes. It's best to be transparent with your client about the effect their requests may have on the project's timeline, budget, or results, to ensure everyone's on the same page about how to handle changes.

Scope creep occurs when work expands beyond what was planned, including projected time, budget, or labor. It's very common and can cause projects to fail, but it is avoidable and fixable, especially when using modern project management tools like what's available from BQE.

To prevent scope creep, you should clearly define a project's scope upfront, know the early signs of scope creep, and have a backup plan or steps to descope. Establishing a framework to help you prioritize and make decisions around the project scope will help you stay on track to hit your targets.

Project planning software helps you avoid scope creep by streamlining your processes and helping you recognize issues early on. It also makes it simpler for you to communicate updates to all project collaborators and stakeholders.